ZenSuous Ultrasonic Diffuser with 6 Aromatherapy oil(15ML each)
Nothing is more comforting than a relaxing night at home after a busy day, with a glass of wine ,your favourite book, and of course, a calming and de-stressing aromatherapy!
Benefit of Ultrasonic Diffuser:
1. The effect on the body: trace and continuous
Absorbed through the nasal mucosa, it will quickly enter the capillaries and enter the blood circulation. The effective components of the essential oil can be transmitted to the whole body. Even sleeping does not affect the inhalation of the essential oil. It can be said to be "moisturizing and silent", and first enters the circulatory system. Metabolism or excretion, and finally reach the liver, the burden on the liver is the smallest. The method of small dose and uniform absorption for a long time is very gentle and safe, especially suitable for infants and young children, severely ill patients or people with frailty
2. More direct effects on the brain
Essential oils affect the brain's nervous system more directly by activating the olfactory system. Physiology tells us that smell, emotion and memory are all processed by the same organ-the limbic system of the brain, which can explain "why memories caused by smell can produce such unusually strong emotions." Therefore, aromatherapy has unique effects on improving mood, memory and hormone secretion.
3. The effect on the respiratory tract is faster
For example, when a cold occurs, viruses or bacteria are mainly attached to the mucous membranes of the respiratory tract. Inhalation of essential oils through incense can have a more direct and rapid effect on the mucous membranes of the respiratory tract. Therefore, aromatherapy has a more direct and rapid effect on sinusitis, sore throat, cough, asthma, hay fever, bronchitis, lung problems, etc.
4. Purify the air
Studies have found that diffusing essential oils into the air can reduce the amount of chemicals in the air and can be used to remove odors in the air. And more importantly, the spread of infectious diseases can be avoided. Because of the antibacterial and antiviral effects of essential oils, it can kill or inhibit harmful microorganisms in the air. When there is a patient at home, it can not only help the patient recover, but also reduce the chance of other members being infected.
5. Repel mosquitoes
Plants have evolved for hundreds of millions of years. Some plants have evolved the ability to drive away natural enemies-insects and prevent damage. This is done through the smell of volatile aromatic molecules in the body, which are actually essential oils. Mosquitoes, flies, moths, etc. will stay away from rooms filled with the aroma of certain essential oils.
Variation:
Relaxing- Relaxing Blend , Green Tea , Sandalwood , French Lavender, Eucalyptus ,Ocean
Stress Relief – Morning Dew , Lemongrass , White Musk, Refresh, Peppermint ,Lavender Rose
Moody- Fresh Air , Rose, Romance, Calming ,Lavender Rose ,Vanilla
                ZenSuous Ultrasonic Diffuser with 6 Aromatherapy oil(15ML each)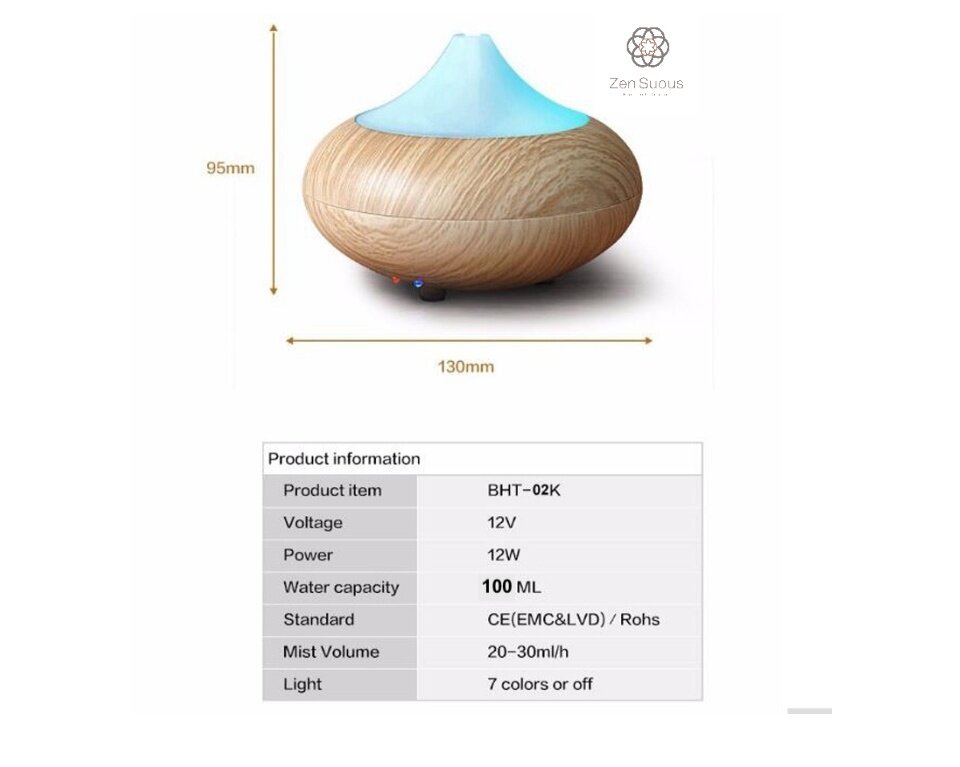 Features:
A well Design Decoration to match your living space.
Night Light/Background Light Comes in Choices of 7 Colours To select.
Works best with  ZenSuous essential oil.
3 in 1 Function can be used as humidification, aroma diffusion and air purification.
Can be used as sterilizer by dropping some alcohol or vinegar.
Low Power Consumption Use Only 12W of Power With Sleep Mode and Mist Interval Functions. Auto cut off function when water level runs low.
Specification:
Aromatherapy: By adding 2~3 drops of various kinds of essential oils and recommended 100ml Water, It can volatilize fragrance help purify and improve air quality, Decrease tension, Kill Bacteria, help in Blood Circulation, Reduce illnesses, enhance immunity System and Remove unusual smell From Atmosphere.
Compact Design With 7 LEDs: Bring a unique charm within the interiors with integrated auto-changing LED lights.Set up the desired intensity & colour with the single button press. Easly Portable Can Be Used at an unpleasant odour area, air polluted, Smoking places etc. Suitable For Home, Office, Study, Bathroom, Yoga, SPA, Hotel etc.
Ultrasonic Sound With Smart Consumption: It Operates at low Noise at 20~40db and comes with Autostop and Sleep Mode Function which is Low Power Consumption uses only 12W of power and Works Nonstop Up to 8 Hours.Automatically stop when out of the water, safe and reliable. When the water level is low than water level sensor, Mist and LED light stop at the same time.
Smart Aroma Diffuser: Its Smart Diffuser Function Has 2 modes for mist adjustment: once press "MIST" button, interval mist mode(Diffuse for 3 Minutes, stop for 1 minute); twice press, continuous mist mode.
Note:
There could be some slight differences in the colour tone of the pictures and the actual item.
Please allow 1-2mm differs due to manual measurement, thanks.
Package Included:
1 x LED Ultrasonic Diffuser
1 x USB Charging Cable
1 x User Manual Packed Safely in Retail Box
6 x ZenSuous Aromatherapy Oil of your choice.